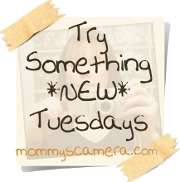 Welcome to Try Something New Tuesday, a place for you to step out of your photography comfort zone and try something new! Use a different mode on your camera, a photo editing technique you've always wanted to try, a new texture you found, or even something as simple as using a different angle while shooting. Anything goes, as long as it's something new you've done this week. "Failures" are welcome! After all, we're trying something new!
I have often thought it would be cool to take pictures of the car lights when driving at night. Of course, I always think about it when
I'm
driving or when I don't have my camera with me. Well, this past weekend, I thought about it, my husband was driving, and I had my camera! I put my camera in
shutter priority mode
(so I could control my shutter speed), started clicking away, and tried something new--photographing the car lights at night:
action mode 1/15, f3.2, 400
Ok, so I failed. I wouldn't say I failed miserably though. I learned a few things:
1) it's impossible to hold your camera still on a bumpy road
2) my pictures would have turned out great had I been able to hold still (at least in my mind they would have been great)
3) even mistake pictures can turn out kinda cool
4) your husband will think you're nuts when you take pictures of "nothing"
5) playing around with your shutter speed can be fun
6) sometimes action mode is better than shutter priority mode
What are you waiting for? Join in the fun and try something new with your camera or photo editing software. You might just learn a thing or two! MckLinky will be open until Thursday at midnight.
---
| | |
| --- | --- |
| | This linky list is now closed. |