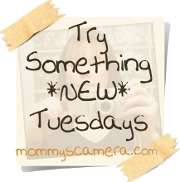 Welcome to Try Something New Tuesday, a place for you to step out of your photography comfort zone and try something new! Use a different mode on your camera, a photo editing technique you've always wanted to try, a new texture you found, or even something as simple as using a different angle while shooting. Anything goes, as long as it's something new you've done this week. "Failures" are welcome! After all, we're trying something new!
This week I tried finding letters around my house. Click
here
and I'll show you where I got the idea.
I just looked around my house for the letters. They didn't turn out as bad as I thought, nor did they turn out as good as I had hoped either. I'm not at all thrilled with my "J". I think I may have to re-take that picture at a different angle.
Grab your camera or photo editing software, try something new, and join in the fun!
---
| | |
| --- | --- |
| | This linky list is now closed. |