Ok, so I'm a week and one day late on the Try Something New Tuesday post. Blame my husband! He had better things for me to do than blog yesterday and last Tuesday (like look for a new computer which we have not bought yet).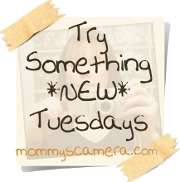 If you are new to Try Something New Tuesdays, it's super easy! Simply grab your camera or photo editing software and try something new--anything! Use a different mode on your camera, a photo editing technique you've always wanted to try, a new texture you found, or even something as simple as using a different angle while shooting. Anything goes, as long as it's something new you've done this week. "Failures" are welcome! After all, we're trying something new!
This post
I did last Friday inspired me to get out of the normal modes on my camera and start to see my world in macro. For an entire day, I went around and tried to shoot things in macro. I stayed away from flowers and bugs and things like that because that's what everyone uses macro for. I wanted to do something different. Here's some of my favorite shots....
Try Something New Tuesdays will run from the FIRST Tuesday of the month until the second Tuesday of the month (except this month because I'm a week late). You can join in at any time during the week. Grab the button up top to link back to my blog then link your blog up in the MckLinky below.