It's the first Tuesday of the month and that means it's Try Something New Tuesday! What does that mean? It means, grab your camera or photo editing software and try something new!
Anything
new: a new camera setting you've never tried, a new subject you've always wanted to photograph, a new texture in photo editing, anything goes as long as you've never tried it before!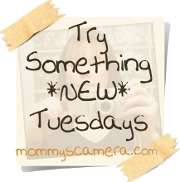 Ok, so to be completely honest, I have not exactly tried something new this past week. Between our State Fair (pictures to come later this week), the Labor Day holiday, and helping Hubby with financial stuff for his company, I haven't had a lot of time to try new things with my camera. In all reality though, everything I'm doing with my camera right now is new since it's a new camera with a ton of new features!
This week I'm determined to get a water drop picture. I've always wanted to try it and now here's my chance! It may take me all week to actually catch a water drop but I'm definitely going to try!
Grab your camera or photo editing software this week, try something new, and link up next Tuesday in the Linky! If you want a little more accountabilty to try something new this week, link up today with a post that says what you are determined to try this week. You can grab the Try Something New Tuesday button on my button page (see Grab My Buttons above) if you want (hint, hint, wink, wink...).
---
| | |
| --- | --- |
| | This linky list is now closed. |